Dallas

---
Facts about Dallas: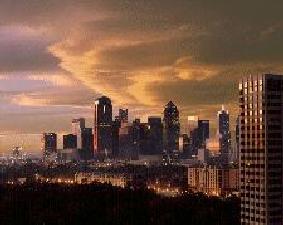 Altitude: 512 feet
City Population: 1,052,300
Primary Metro Population: 3,146,741
Consolidated Metro Population: 4,718,991
(including Fort Worth)
Source: U.S. Bureau of the Census, North Central and East Texas Council of Governments, Greater Dallas Chamber.

For stats on the D/FW area,
see their Fast Facts page.

Weather:
Average Annual Daily Temperature: 65.4F
Average Annual Rainfall: 33.7 inches
Average Humidity AM/PM: 82%/56%

Summer temperatures begin in late May, and by August the average daily temperature is 100+ F. At this time of year, downtown Dallas, although always brimming with activity, becomes an underground community (see below).

Winter temperatures hover between 20 and 40 F, usually with alot of wind. When it comes to wind, Dallas goes toe to toe with Chicago. On the average, there is little, if any, snowfall, and thus when and if it does snow, Dallasites are usually ones to call it a day and stay home.

Dallasites are no fools when it comes to the heat, and it does get hot there in the summer. The complex system of Dallas' "Underground" shops and restaurants is a testament to the downtown sector that literally stays underground when the sun beats down hard. The Dallas underground is a crowded place regularly, but during the harshest weather, it's jammed.

I used to always make my aunt take me to the underground via the entry in Thanksgiving Square, which is an artsy plaza in downtown.

In the underground.
Storms are plenty in Dallas over summer, but not during drought. And hurricanes that hit Corpus Christi/area will usually send fallout to the city.

Dallasites do one of two things when it's hot: swim or shop. And for a city where white collar rules, there is some major shopping to be had. The Galleria is a fine example of the Dallasites' wet shopping dream -- complete with indoor clubs, restaurants, full sized movie theaters, a year-round skating rink, and a store for everything imaginable. Dallas is a community of shoppers, you'll see that.

There are communities within Dallas, one of my favorite being Las Colinas. If you visit Gil Glover's page, you can see a photograph of the Mustang fountain that has always captured my imagination -- namely because I could never figure out how they could make these statues really look as if they were running throgh water. Las Colinas is where the Dallas Cowboys train. A quick impression of Las Colinas should sum it up: big Texas money, big Texas homes, big Texas politics and big Texas pride.

My other favorite little community is called Addison. Addison is known as being just a filthy rich, upwardly mobile area. The police department there has a budget that affords them, on a regular basis, not just souped up Caprices, but customized Mustangs, performance-brand Ferraris, high-powered Corvettes. Yep, all with the standard black-and-white with blue lights. So, best not to speed while visiting. *innocent smile*

Another favorite area is on Trinity Mills. Trinity Mills runs west and east, from the Tollway, west, in North (just on the edge of Plano, another little community -- formerly a town, btw) Dallas. Trinity Mills is my stomping grounds. I know my way around alot of Dallas (the wheels are rusty, but it will come back to me) but I always come back to Trinity Mills. The reason why is that when I lived in Dallas, I lived only two minutes from the intersection of TM and the Tollway. I was driving down TM when the clock ticked over and we went to war in the Gulf. What a madhouse it was. I hesitate to think what the Big D will be like this New Year's Eve...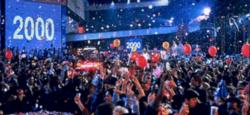 Maybe.
And now...
---
S T U F F A B O U T D A L L A S

Random things about the Big D:

This is Dallas' famous LBJ expressway, which loops the city and provides the massive mess of "Mix Masters" at crucial exits and junctions -- that is, an entanglement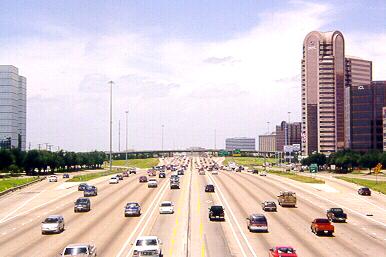 of off- and on-ramps that would test even the heartiest of roller-coaster enthusiasts.
To the right in this photograph is the Galleria Complex, which in addition to the luxurious Westin Hotel et al, is the three-story Galleria Mall. The hotel is actually the high-rise you see. The Galleria Mall comes complete with a full-sized, year-round ice-skating rink!
This is the "typical" Dallas apartment -- three stories, brick and wood mixed, brand new and well-manicured. There are a ton of these types of apartments here, and they usually come in complexes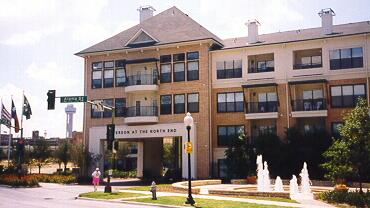 of over a thousand units. And miraculously, they are always extremely well-kept and very nice places to live. You will see the defining style of the typical Dallas apartment is of this nature.
This is a house currently on the block in Plano. This house style is called "Dallas" -- brick/stone; tall, arched windows; and pillared entrance, plus the little brick mailbox out front. Not every 'Dallas' style house is luxury-oriented like this one, but this is a good
example of the upper-end of said style. Note that many of these houses go up in a matter of a couple of weeks, and quantity is the name of the game. Literally entire blocks of houses and apartments go up every month. Backyard space is next to nil, but the plus is a modern home with a two car garage, a huge master bedroom, and a roomy loft.
Ask anyone in Dallas, or Texas, or most other places, and they'll tell you this is the symbol of Dallas. This flying red horse was placed atop the Magnolia petroleum center in the 1930's -- two neon horses welded together, spinning around and around on a track. When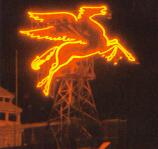 you see it for the first time, you'll see how small it is, and wonder how in the world it became a symbol of such a large town. But it stands for alot more than Dallas, it stands really for pride and strength to prevail -- namely the Depression, and WWII -- and Texans are proud fellows.
D/FW Airport is one of the largest airports in the world. It has its own zip code. The first time I ever went there, I was totally shocked at how big it was. The only other Southern airport I've been to that rivals D/FW is that of Atlanta. Alot of tourists fly directly into D/FW and end up paying through the nose to do so, when they could fly into Love Field, in Dallas and not 45 minutes away, and save literally enough to stay an extra week.
Crime in Dallas is, well, crime like any other place. There are your usual vermin and pimps and questionable neighborhoods, and picking up a Fodor's should well-warn any traveller of places to avoid like the plague. Houston has the most crime per capita (although NYC is the murder capital) in the U.S.; Dallas ought to, though, for the number of ATMs that are around the city. Cash on-the-go is important to Dallasites, which I've always found strange since it is quite obvious everyone there swears by plastic.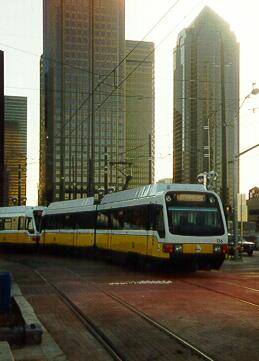 Getting around here is no picnic. The easiest routes to take to anything are the Tollway, which runs through the center of Dallas north and south, and wherever the DART is going. Dallas Area Rapid Transit is a lightrail system that services downtown and points near, and is the fastest and cheapest way to sightesee or get around.
There are a ton of bars and clubs and hangouts in Dallas to visit. Listing them all here would be impossible -- even listing all those worth visiting would be ambitious. But Dallas has everything you could need, unless you're some kind of super club kid. Actually, even if you are some kind of super club kid, Dallas still has everything you need. No, it's not L.A., and it falls short of NYC by about 10 million people, but the Dallas scene is one spectacular and eclectic scene that should not be missed. It of course has the requisite video bars, cruise joints, stand-and-pose sports grills, nouvelle cuisine kitchens, a Planet Hollywood, a Hard Rock Cafe, and a healthy helping of authentico Tex-Mex dives.
Alcohol bars close up and become juice bars after 2 a.m., that is, if said establishment stays open after that hour. 2 a.m. seems to be the essential time to pack it in and head home to sleep it off, or to prowl around in the seedier clubs until daybreak, or to head out to whatever party or rave is happening on the outskirts of town and continue reveling in the debauchery.
Deep Ellum is a happening place to be on the weekend nights; the later it is, the more alive. Alot of people rave about the O N E Club, but I found nothing too special about it. Gayboys and drag queens and half-clad butches posing by decorative furniture attempting to conversate and score over the throbbing hardcore in the next room. Ugh. There is a dress code that varies from nightspot to nightspot, so the general advice is dress conservatively understated, but comfortable.
Deep Ellum is in a category all to its own, and probably the only place in the city where the really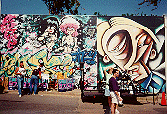 tormented, art-is-life-is-pain-is-art, types are. And it's evident just from taking in all the huge, fantastic murals on the sides of every building. There are some galleries here that, if you can get past the snootish atmosphere, have some really fantastic stuff in them. Also very artsy in Deep Ellum is the food. No, no cheeseburgers and fries here. If it doesn't have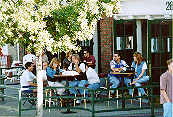 goat cheese or balsamic vinegar or an extravagant selection of garlic-roasted vegetables, and some type of obscure, creme-de-je-ne-sais-pas-ce-qui drowned in "sauce" (doesn't anybody just use the phrase "chocolate syrup" anymore??), it doesn't belong here. Bring plenty of plastic. Check out this menu from Deep Ellum Cafe.
Part of a Memo from the Office of the Governor explains about Deep Ellum:
"Deep Ellum got its start in the 1860's as a railroad crossing. It is the site of Dallas' earliest African American neighborhoods, whose residents lived and worked along the tracks. The Blues scene was prominent in Dallas in the 1920's and major recording companies sought talent in the Deep Ellum area. By the thirties, the area had become a center for small business, light industry and dry-goods stores.

In the early 1980's, revitalization began as young artists saw potential in the Deep Ellum area and leased space for studios. A decade later, the area became an entertainment district complete with street poets and graffiti artists. Today, much of Dallas' avant-garde artistic activity and nightlife is found in Deep Ellum.

Artistic activity in Deep Ellum has produced civic, social, residential, commercial, and industrial development. The collective vision of the local artists has been instrumental in revitalizing abandoned commercial and residential communities, and has contributed to public awareness and appreciation of nature and the products of the human mind and the beauty of life."
"Ellum" is actually a corruption of the word "Elm", which is the street downtown that this part of the city runs off of.
In 1986, a massive construction project was undertaken to widen the perpetually-choked Central Expressway, one of the oldest road systems in Dallas. Traffic on Central was (and still is) horrendous. It was (and still is) a running joke -- "Dallas' biggest parking lot". But attention was
immediately turned away from the obvious problem when thousands of graves belonging to African Americans and slaves were unearthed under the old highway during digging. Construction ground to a halt. Any Southerner with half a decent heart wept when he heard the news. Archaeologists, humanists, and civil rights organizations descended upon the site and upon Texas' political might to discover just what had been stumbled upon, and why the site had ever been paved over and forgotten at all. Further exploration of the site before construction was resumed revealed that this is one of the largest African American, combined with slaves, burial grounds in the U.S. There is currently, next to the original site, a memorial area and cemetary containing the 1500 bodies saved from the original site. Today, the burial ground is approximately 140 years old, and holds what is believed to be 7,000 graves, most of which have been both severly distubed and again lost to the depths of an asphalt slumber. Visit the Freedman's Memorial online.
Tourists come to Dallas for mainly two reasons: to see Southfork Ranch, where the legendary tv show Dallas took place (which is actually about half an hour northwise of Dallas), and to see the JFK Memorial. The ranch is still a residence so it doesn't get too tourist-trappy aside from a gift shop and moderate tour. Downtown at the Memorial (Dealey Plaza) one can stand on the 'grassy knoll' or outside the Texas Book Depository and envision that fateful day of November 22, 1963.
The original fence on the grassy knoll still stands, although weathered from years of souvenir-collecting that have left it pock-marked. Bring a pocketknife and collect your own piece of history. From this vantage point one can sit and meditate on the single gun theory and all things governmentally-conspiratorious while ogling flocks of Japanese tourists.
Dallas contains something for everyone. Money, food, clothing, nightlife, recreation, housing, jobs, you name it, Dallas has it.
There is much more in Dallas that I'd like to show you... much more than I can put words to, much more that I would rather take you to and show you in person. Then, you'll get a feel for the things I've covered here. Dallas is really a nice place. By far, I've always enjoyed it. I learned to drive there, stick shift at that. I had my first, real job there -- ticket window girl at AMC Theater on Arapaho Road near the Galleria -- lasted all of 3 days. Heh.
I've been there several times over the last twenty years, and lived there for a few months, and although that lends me the ability to give you a general idea of the city, I am no expert -- we'll both have alot of exploring to get in.
As usual, I gathered some links for you, which are below, which I think will be helpful. If you have an hour, sit down with Gil Glover's Dallas View and familiarize yourself with what's around the city. You might be amazed! The gay/les pages are substantial -- there is a healthy community in the D/FW area. Remind me to take you to Bill's Records and Tapes while we're there (this store has everything), which is in the 'hood -- and also next door to Tom Thumb grocery store, which has been around forever, and is known to be quite the place to cruise for quickies! (oh my)
And don't forget that the Six Flags Over Texas is located in D/FW. Gotta love it.
There's a ton more, but I can't possibly fit it all here. You'll just have to see for yourself. :)
~=~
---
L I N K S O F I N T E R E S T


Here are a few places you should spend some time at...
Dallas Convention and Visitors Bureau
Gil Glover's Dallas View - A recommended photographic tour of Dallas.
Dallas Gay and Lesbian Community Webpage
Fort Worth Gay and Lesbian Community Webpage
Interesting Facts About Texas
Dallas - Things To Do and See
The Galleria Mall
Dallas Guide to Outside - Biking, hiking, camping...
The Internet Loft Virtual (tour of) Dallas - with then and now photos
Dallas Stars 1999 Stanley Cup Champs
Dallas, Texas, USA webcam view
The Dallas Zoo where else will you see a 65 foot giraffe?
Dallas Morning News


---
All photos on this page are stolen. Photographs © 1990-1999, Somebody Else But Me.