Eureka Springs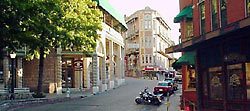 Eureka Springs is a small town of around 1,500 residents in the Ozark Mountains. It was founded in the late 19th century during the fashionable health and well-being spa craze, but even before that time, the locals had long-known of the healing springs located in the area.
Since then it's gone through many revitalizations, and maintains its focus on relaxation for the weary. Much of the historic downtown remains as it was over 100 years ago, and as such is an architect's dream - a living Victorian village.
A number of bed and breakfasts populate the town and its outskirts, offering everything from simple, quiet getaways to non-traditional weddings to expensive banquets. You'll also find a wealth of artisans, art galleries, leather crafts stores, restaurants, tailors, health and new age shops, boutiques, renovation supply shops, fine dining establishments, and even old fashioned sweets stores, and it isn't difficult at all to find locally-made crafts for you to take home. And yes, the famous springs are still there.
Its main industry is tourism, and most of the establishments are gay-friendly and many are gay-owned and/or operated. It is not uncommon to see a rainbow flag outside a business, or find gay-themed momentos for sale in many shops, just as you might see little old ladies and kids with mohawks happily standing on the same street corner. But just as a vacation experience, Eureka Springs shouldn't be missed.
Twice a year, many shop owners collaborate for the Diversity Weekend celebration, which draws thousands of gay and lesbian tourists from everywhere. More information about that can be found in the links below.
There are not enough words to describe Eureka Springs, and as a loyal visitor my advice to anyone looking for a unique getaway in a quiet mountain setting is to go.
Instead of listing all the gay-owned, gay-operated, or gay-friendly establishments here, I'll simply list a few of my favorites. Much more information, and up-to-date information, can be found at the Diversity Cooperative website (link below).
If you found this page and would like your business listed (free of charge), or would like me to change or remove a listing, please send a note and let me know.
- Online -
Eureka Springs: "Eureka Springs is known by many names: Haven for the State's Eccentrics. The place where misfits fit. The hole in the Bible Belt where the buckle goes through..."
Eureka Springs: Everything you might need to know, no matter if you're going to play, or going to stay. This is a fantastic, informational site.
Eureka Springs Diversity Cooperative: Listing a variety of resources and information for "all visitors, regardless of race, creed or sexual orientation..." Of special interest to gay and lesbian travellers. This is the best source for complete, up-to-date info in Eureka.
PrideNet: Eureka Springs: More lodging info, restaurant info, etc., though probably not as up-to-date.
- Offline -
Bars / Clubs
Chelsea's Corner Cafe - 10 Mountain St - Eureka Springs, AR - (479) 253-6723 - Open Mon-Sat. 11am to 2am - Women owned/run
Lodging
Arbour Glen Bed and Breakfast - 7 Lema St. - Eureka Springs, AR 72632 - (800) 515-GLEN or (479) 253-9010
Basin Park Hotel - 12 Spring Street - Eureka Springs, AR 72632 - (877) 643-4972 - Built in 1905. Another must-visit historic hotel. Once featured on "Ripleys' Believe It Or Not" because every floor of the hotel is built on ground level. Go mull that one over.
Cliff Cottage & The Place Next Door - 42 Armstrong (downtown) - Eureka Springs, AR 72632 - (479) 253-7409 for information or (800) 799-7409 for reservations (alternate site)
The Crescent Hotel - 75 Prospect Ave. - Eureka Springs, AR 72632 - (800) 342-9766 - Built in 1886. Every visitor should stay at this Arkansas landmark at least once. Once home of Morris the Cat from "9 Lives" commercials. Webcam available.
Pond Mountain Lodge and Resort - 1218 Hwy 23 S / Rt. 1 Box 50 - Eureka Springs, AR 72632 - (479) 253-5877 for information and (800) 583-8043 for reservations (alternate site)
Religion
MCC - Metropolitan Community Church of the Living Spirit - 17 Elk St. / PO Box 365 - Eureka Springs, AR 72632 - (479) 253-9337
Shopping
The Emerald Rainbow - 45 1/2 Spring Street - Eureka Springs, AR - (479) 253-5445 - "Celebrate Diversity in Thought & Expression ~ But Recognize Our Oneness in Spirit" (alternate page)
Dining / Drinks
Center St. Bar and Grill - 10 Center St. - Eureka Springs, AR - (479) 253-8102 - Great Latin American food, and check out their margaritas.
Chelsea's Corner Cafe - 10 Mountain St. - Eureka Springs, AR 72632 - (479) 253-6723
Jim & Brent's Bistro - 173 S Main St. (Planer Hill) - Eureka Springs, AR 72632-3625 - (479) 253-7457 - gay-owned since 1994.
Services
Eureka Massage Center - Cindy Covel, Dominic Fabis, Alexa Pittinger and Julie Rogers - 117 Wall St. - Eureka Springs, AR 72632 - (479) 363-9900 - Afternoon and evening appointments.
Placement of businesses or organizations on this list does not constitute an endorsement. As always, buyer beware.
Email